How To Clean Engineered Wood Floors
Keep your Engineered Wood Floor smudge and dirt free with this handy guide from the experts. For floors that add immediate warmth to a room without compromising on character, engineered floors are high quality, durable and incredibly easy to clean. Not to be confused with laminate flooring, engineered wood floors are the flooring type for the future: they sport the look and feel of real hardwood, without the disadvantages of cost and restrictions of placement. Engineered wood flooring is made up of a combination of laminate and hardwood, formed of a series of high-density layered fibres. This layering technology gives these floors greater support, meaning that they can tolerate greater fluctuations in temperature and moisture levels. Whether you've already taken the plunge, or are just browsing, if you're are worried about how to maintain your new engineered wood floors, let us put your mind at ease. To keep your wood floors looking like when they were first installed, all you need to do is follow a few simple steps: mop up spills immediately, stick to a regular cleaning schedule and use the right cleaning agents. Go for easily maintained, stress-free engineered wood flooring – one of the many reasons why engineered floors are one of our most popular floor types. Read on to find out how to leave your floors spotlessly clean.
THE BENEFITS
There are numerous benefits to installing engineered wood flooring as opposed to solid hardwood floors, lower cost being a significant one. Engineered wood floors are incredibly budget-friendly, and come in a variety of colours, finishes and board sizes. This means that you often have more options than if you chose a solid hardwood floor type. Engineered flooring is extremely long-lasting, made from multiple solid layers that give the floorboards the strength and finish of solid hardwood. These floors can also be re-sanded up to two or three times, and then re-varnished or lacquered, to remove signs of unsightly stains and scrapes. Engineered flooring has come a long way in the last few years – many people cannot tell the difference between solid and engineered wood. Engineered wood floors look just as good as authentic wood, without the costly disadvantages. This floor type can be laid down more easily, even as a beginner DIY project, and can be placed in bathrooms, kitchens and with underfloor heating as it doesn't expand or contract. This is an affordable, durable, maintenance-friendly wood floor that will suit every home.
PREVENTING MOISTURE
One of the most common problems associated with wood flooring is moisture. Because wood is a natural material, it expands and contracts in response to levels of moisture in the air. This can lead to unsightly cracks and blemishes in the wood, and even buckling in some cases. While engineered wood flooring does not carry the same risk as solid wood, it still sports a hardwood upper and so care must be taken when it comes to maintenance. If you're particularly concerned about the problems that high moisture levels can cause – for example, you're placing new floors in a moisture-rich environment, such as an under-ventilated bathroom or basement – you might consider taking moisture readings of your subfloor for peace of mind. Another easy tip is to leave the planks of wood in the room where they will be laid down so that they acclimatise to the environment, reducing the risk of damage. Prevent stains by watching out for spills. While engineered floors may be laid down in kitchens and bathrooms, it's important to clean up all spills quickly, particularly when they develop into puddles of standing water. This is even more important for chemical spills, which can cause irreversible staining and damage if not mopped up quickly before they have dried.
REGULAR MAINTENANCE
Keep your floors looking as good as new by implementing a consistent cleaning routine. Sweep floors three or more times a week to remove debris and prevent scratches. Always sweep your wood floors before you mop for ultimate cleaning. Try to properly mop your floors at least once a week. Some experts recommend using a microfibre mop on engineered wood floors to stay ultra-gentle, but using a regular mop is also fine, as long as it remains damp and not soaking wet. Add a few drops of specialised engineered wood floor cleaner to water and submerge your mop, making sure to wring out as much water as possible before you begin. For very hard-to-remove stains, try mixing white vinegar and hot water in limited amounts – though always check with your manufacturer beforehand. It is also possible to carefully vacuum your new wood floors without causing damage. Just make sure that your vacuum is lightweight, with a hardwood-mode or recallable harsh bristle bar that may cause scratches.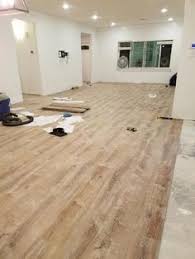 Know Before You Begin
Hardwood's arch nemesis is moisture, especially standing liquid that's allowed to absorb below the surface. This can cause the floor to expand, warp and cup. This should always be your primary consideration when cleaning hardwood. Always wipe up spills immediately and don't allow liquid to pool. Additionally, you should avoid putting any product on your floor that contains ammonia, wax, solvents, bleach, detergents, polishes or vinegar. Never use steel wool, stiff cleaning brushes or steam cleaners on hardwood.
Tools and Cleaners
Check with the flooring manufacturer before selecting a cleaner, but Bona floor cleaners, made specifically for hardwood, are often a great option. You'll need a gentle hardwood floor cleaner, a microfiber mop and a vacuum.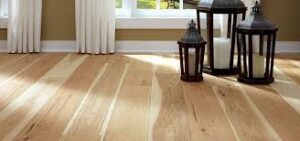 DO:
Use walk-off rugs at doorways to help prevent dirt, grit, and other debris which can get tracked in and scratch the floor.
Immediately wipe up any spills with a slightly dampened cloth. You may want to place an area rug near kitchen sinks to avoid water on the floor.
Use a wood-cleaning product to remove dirt and oil buildup. If the wax finish on your wood floor is discolored or has a heavy dirt build-up, use a combination liquid cleaner/wax specifically made for wood floors.
Follow the instructions on the bottle to avoid damaging the surface.
Avoid wax buildup under furniture and other low traffic areas by applying wax in these spots only every other waxing session.
Put stick-on felt protectors under the legs of furniture to prevent scuffing and scratching. Replace these often as dirt and debris embedded in the pads act like sand paper on the floor surface.
Use a humidifier to minimize gaps during the winter months when you are running heating throughout your home.
Use blinds or curtains year-round to prevent harmful UV rays from discoloring your floors.
DON'T:
Do not use vinyl or tile cleaning products on wood floors. Similarly, never use self-polishing acrylic waxes on wood floors.
Do not wet-mop or steam mop your wood floors. For wood flooring in the kitchen, place an area rug at the kitchen sink.
Do not over-wax a wood floor. If a waxed floor dulls, try buffing instead. If buffing no longer restores shine, you may need to rewax. If so, apply a cleaner and liquid wax specifically for wood floors. Apply the wax evenly, allow the floor to dry, and buff to the desired luster.
To avoid scratches when moving heavy furniture or other objects, do not slide it on wood flooring.
For polyurethane finished floors
Dustmop, sweep, or vacuum regularly.
When cleaning no longer restores shine, recoat the floor with a surface finish. The frequency of recoating depends on the amount of traffic.
Never wax a surface-finished floor.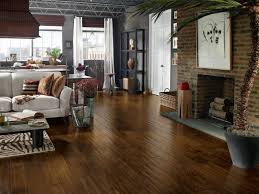 Solid Wood Floor Maintenance
General recommendations:
1) Keep the temperature and humidity conditions in the room:
Humidity: 45-55%;
Temperature: 18-22 degrees Celsius.
In case of low humidity (during the heating season), the room should be equipped with a humidifier,
In case of high temperature (in the summer-autumn season) the room should be equipped with air conditioning or a dehumidifier.
2) It is important to avoid aggressive mechanical impact on solid wood floors:
It is necessary to exclude mechanical impact: sharp supports of furniture, footwear, abrasives.
It is recommended to furnish the legs of the furniture with special overlays of felted cloth or fabric, and under the furniture on rollers you should put special mats.
If you notice sand, dust, or traces of dirt on the floor, try to remove them immediately with a soft brush or vacuum cleaner, otherwise they may cause scratches.
When working with a vacuum cleaner, use a soft nozzle.
Do not use washing vacuum cleaners or robotic vacuum cleaners.
3) The renewal and colour restoration of the oil-coated flooring is made only with the use of coloured oils identical to the original colour of the design.
4) It is unacceptable to use any detergents for cleaning floors, other than those recommended by the manufacturer.
5) Wet cleaning should only be done with a well-wrung cotton cloth.
PREVENTATIVE CARE
Cleaning Dirt & Grit
To avoid dents, vacuum with a brush attachment — don't use vacuums with beater bars. Dirt, grit and sand are your hardwood floor's worst enemies. They act like sandpaper on the finish, causing scratches, dents and dulling. Place floor mats at entrances and high traffic areas to trap dirt and prevent damage.
Water & Spills
Standing water can warp hardwood floors and can damage the finish. Simply wipe up all spills as soon as they happen.
Hard Cleaners
Avoid oil soaps as they can build up leaving a film creating a dull look to your floors. Instead, neutral pH cleaners developed specifically for wood floors are recommended.
Furniture
Lift the furniture to move it — avoid dragging. Felt contacts under the legs will help prevent scratches.
Sunshine
Direct sun can discolour your hardwood floor.  Close curtains and blinds or add sheer drapes to protect your floor from the intense UV rays of the sun.